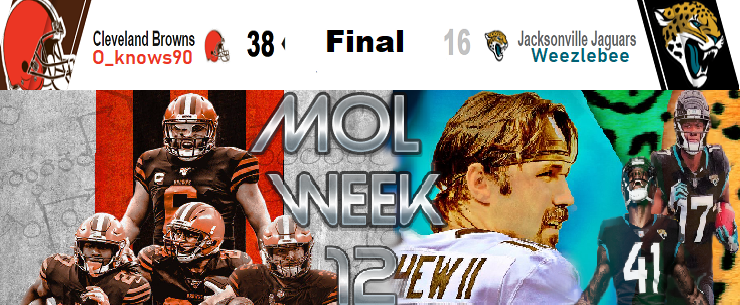 Browns gewinnen bei den Jaguars und machen einen großen Schritt in Richtung Division Sieg.
Anfangs noch ein enges Spiel, waren die 5 Interception von Gardner Minshew entscheidend für das deutliche Ergebnis.
Mayfield mit einer soliden Leistung. Odell Beckham Jr. konnte 3 TD's von seinem QB fangen und steht somit bei 10 Receiving TD's in der Season.
Man of the Match :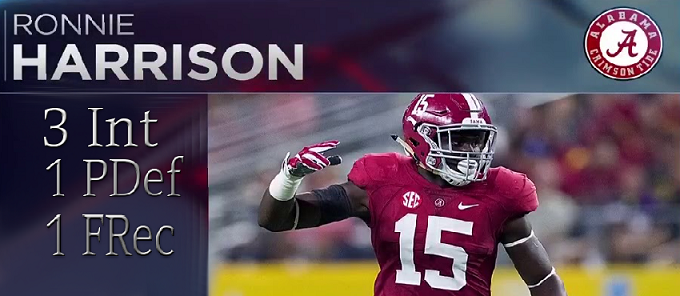 reggiebush15

Franchise Player





Anzahl der Beiträge

: 507


Anmeldedatum

: 13.08.18


Ort

: Frankfurt am Main



Vindows2608 mag diesen Beitrag
Auch hier nochmal Glückwunsch zum Sieg.
Zu den 5 Ints kamen noch 2 PI Strafen direkt an meiner Endzone dazu. Da konnte ich es leider nicht mehr spannender gestalten. Vielleicht beim nächsten Mal
PS: besonders bitter, Harrison war letzte Saison noch bei den Jax.
Zuletzt von Weezle am Mi Dez 09, 2020 11:59 am bearbeitet; insgesamt 1-mal bearbeitet

Weezle

Pro Bowler





Anzahl der Beiträge

: 174


Anmeldedatum

: 23.12.15


Alter

: 59


Ort

: Düsseldorf



Weezle schrieb:Auch hier nochmal Glückwunsch zum Sieg.

Zu den 5 Ints kamen noch 2 PI Strafen direkt an meiner Endzone dazu. Da konnte ich  es leider nicht mehr spannender gestalten. Vielleicht beim nächsten Mal
Ach stimmt ja. Jetzt wo du es sagst. Waren einfach geschenkte Punkte von madden

reggiebush15

Franchise Player





Anzahl der Beiträge

: 507


Anmeldedatum

: 13.08.18


Ort

: Frankfurt am Main



---
Befugnisse in diesem Forum
Sie können in diesem Forum
nicht
antworten