Die Patriots gewinnen das Game of the Week spiel mit 24:27 gegen die Cardinals!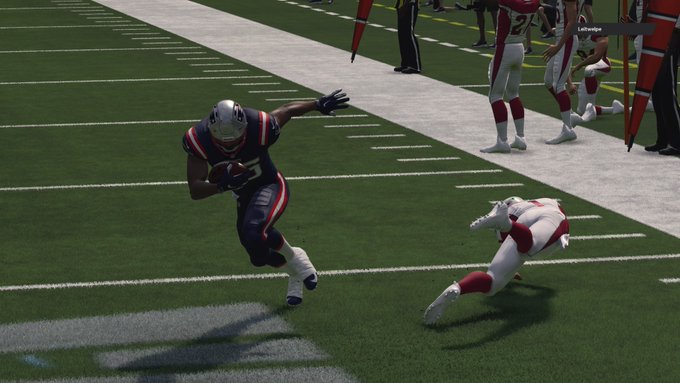 Fun Facts:
1. Die Cardinals erster in der Offense mit den wenigsten Turnovers und die Pats mit einer der besten Teams in Takeaways.
2. Das letzte aufeinander treffen war 7 Jahre her in der DML(der vor Vorgänger dieser Liga). Damals hatte ich die Ravens und er die Cardinals und das spiel ging alles andere als gut für Leitwelpe aus
Die Cardinals gingen früh mit einem 3 play drive in Führung, durch Edmonds und die Patriots konnten nur mit einem FG entgegensetzen, aber ein motivierter Burkhead konnte mit einem Screen den Anschluss TD machen und der Safety Phillips konnte einen Pick6 erzielen, was die Patriots kurz vor der Halbzeit in Führung brachte. Die Cardinals konnten erfolgreich einen FG versuch kurz vor der Halbzeit machen, womit sie den Ausgleich zur Halbzeit erreichen konnten (17:17).
In der zweiten Halbzeit wurde die Cardinals Offense eingestellt von der Patriots defense und Kyler Murray wurde zum 5ten mal gepickt & die Offense mit den wenigsten Turnovers, gehörte nun zum Durchschnitt, dank der Defense mit den meisten Takeaways! Aber die Patriots können keine Punkte daraus machen, bis auf WR Byrd der den Ball fängt und für 12yards zum TD laufen kann und die Führung bringt!
Die Patriots haben im vierten Quarter den Ball und haben es diesmal bis zur 30. der Cardinals geschafft und mit 3 & 8 kommt ein run für 2yards und die Patriots entscheiden sich für den FG und gehen in den letzten 2min mit 17:27 in Führung. Die Cardinals geben nochmal alles aber mit 7 Sekunden auf der Uhr findet Murray, WR Williams für 12yards zum TD! Nun liegt der Punktestand bei 24:27! Der Onside Kick wurde von Edelman recovert und somit gewinnen die Patriots mit 24:27!
Mad-Mike war sehr zufrieden und bedankt sich an die LL und an die Spieler dieses Spiel kommentieren zu dürfen.
MVP des Spiels ist FS/Nickel LB Adrian Phillips mit: 4tckl, 2INT, 1PD & 1TD
danke an Leitwelpe für das Faire spiel!
Hier die Highlights. Ich hoffe ich muss dann nichf weitere sieben Jahre auf eine Revanche hoffen. Gutes Spiel. Blöder Tag bei mir gewesen mit den Picks


_________________
ML Season XXI - Atlanta Falcons (11-5) Out Conference Game
ML Season XXIII - Arizona Cardinals (13-3) Out Wildcard Round
ML Season XXIV - Arizona Cardinals (5-10)
ML Season XXV - Arizona Cardinals (11-5) Out Divisional Round
MOL Season XIII - Arizona Cardinals (11-5) Out Conference Game
MOL Season XIII: Arizona Cardinals (14-2) Lost Superbowl vs Broncos (Bifi)
MOL Best Newcomer XIII

Leitwelpe

Admin





Anzahl der Beiträge

: 535


Anmeldedatum

: 19.05.20


Alter

: 30


Ort

: Düsseldorf



---
Befugnisse in diesem Forum
Sie können in diesem Forum
nicht
antworten